(Earl's) interests in jazz did not grow until he met Bill Stevens in ninth grade. Mr. Stevens was the jazz band director at FSSA until he retired in 2015. He was an incredible trumpet player, and had a unique way of teaching music to young people. A whole new viewpoint and perspective was introduced to (Earl) by Mr. Stevens. In Simons' eyes, Mr. Stevens impacted him with the way he approached jazz in class. Jazz began to be the music that he really liked. "It was a way I had never experienced it," Simons continued. "Mr. Stevens would help our technique to improve, and he treated everybody equal in Big Band by giving opportunities to everyone."
From "Giant Steps in Jazz" November 9, 2017
The Bennett, featured article on trumpet player Earl Simons by Astra Rincon
Bill Stevens has recently retired as of February 1, 2016 after 25 years of service in the New York City Department of Education as the Assistant Principal - Administration, Supervisor of Performing Arts, Film and Fine Art and the Director of Jazz Studies at the Frank Sinatra School of the Arts in Astoria, Queens.
Bill has directed and coordinated student Jazz programs with the Brooklyn Conservatory of Music, the Lucy Moses School and the New York Jazz Workshop.
CLINICIAN, SPEAKER, ABSTRACTS...
Bill has been asked to both speak and perform at prestigious international festivals and conferences:
International Association for the Study of Popular Music International Conference RE-peat, please!, May 14 - 16, 2020 at the University of  Antwerp, Belgium, the Netherlands. Topic of Presentation: an examination of popular cover songs as a concurrent musical transgression and transposition when taking a songs first recording, made popular by someone else and then re-interpreted allowing for the covers constant comparison to, transformation from what has preceded it, a renewal, looking forward and listening backward. You can read my abstract for this presentation below... 
International Society of Improvised Music at the University of Melbourne Conservatorium of Music in Melbourne, Australia from June 3 - 7, 2020. Planned performance to include a series of solo trumpet pieces with recorded spoken word and/or ambient electronic settings for improvisation.
Repertoire to include:
It's Only Fiction Until it Happens, Fragile Beauty, La Jetee, Unfinished Journey and Lecture on Nothing.
Research Catalogue of the Nordic Journal for Artistic Research, Stockholm, Sweden - Theme: One More Time, Let's Do It Again ... What insights may emerge by doing something again and again, repeatedly, over a long period? We invite expositions of artistic research where "doing it again" is of importance, and we invite contributors to expose the artistic research questions, contexts, practices and outcomes in which repetition manifests itself, reflecting upon how "doing it again" may contribute to practice, to research, insights and to knowledge production. ..."
Lecture Title: An Examination of the Music and Performance Practice of Miles Davis, 1960 - 1969
One More Time, Let's Do It Again Abstract
Australasian Jazz & Improvisation Research Network's conference in Melbourne, Victoria, Australia from June 1-3, 2018. The topic of discussion will be: So What? Jazz and Improvised music research and its impact on artists, scenes and society. You can read my abstract, talk and see my PowerPoint presentation below:
In 2017 I traveled to Oslo, Norway and Copenhagen, Denmark where I was invited to speak at the Joint Research Centres Conference at the Norwegian Academy of Music in Oslo, Norway on November 1 - 3, 2017. The conference looked at "The Protean Musician: the musician in future society - What does the future look like for the musician in society?" My presentation looked at the history of Jazz education over the last 100 years and what contemporary Jazz degree programs are currently doing to meet the needs of their students post graduation in the 21st Century. Under the Photo Gallery tab, there are pictures from the conference at the Norwegian Academy of Music and below, you can see the talk and the PowerPoint from my presentation:
The_Protean_Musician_Word_no_Comments.docx
Norwegian_Academy_of_Music.pptx
EQUIPMENT: 

I often alternate playing a 1948 Martin Committee model trumpet, a Benge 3X trumpet (1972), a Yamaha YTR-634 trumpet (1979), as well as a Yamaha YFH-631 flugelhorn (1979). Both my trumpet and flugelhorn mouthpieces are custom made by Giardinelli, New York and Greg Black Mouthpieces.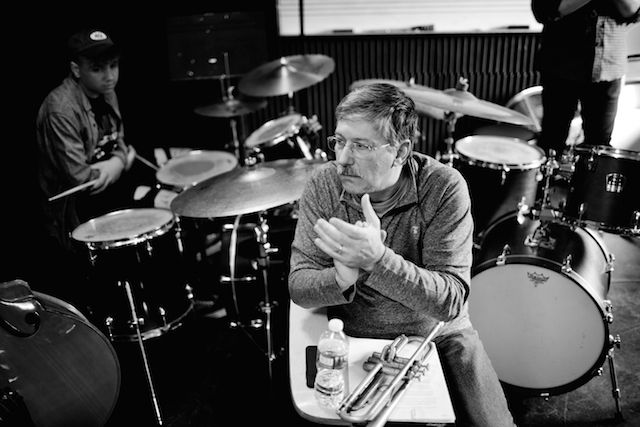 PEDAGOGY: 

While in high school in Syracuse, New York two individuals, my high school band director Burt Dunlap and Jazz drummer George Reed, taught me that the study of music, and Jazz improvisation in particular, requires dedication. Years later, in my studies with Jack Walrath and Joe Solomon, I learned that the study of music is a life long journey best taken slowly. What is learned during this journey must be shared with your peers and passed on to the next generation.
TEACHING MISSION STATEMENT:
As a doctor diagnoses each patient, my mission as a teacher is to seek each individual students needs looking to expand their musical knowledge through the long term qualities of mastery of their instrument through deep practice and listening, to develop the musical concepts of style, taste, communication, chord/scale theory and rhythm. 
An explanation of each quality:
1. Mastery of the Instrument – the ability to execute
the ideas that you hear quickly and easily
2. Style – your voice, your statement of who you are
3. Taste – is a process of elimination, choosing what to play,
when to play and the use of incorporating space
4. Communication – the direct link between you and
the band and between you and the audience
5. Chord /Scale Theory & the Study of Chord Progressions –
to learn and become familiar with
nomenclature, chord progressions and scale choices.
6. Rhythm – is what will combine all of the
prior elements into a cohesive statement

PRIVATE LESSONS: 

Private lessons are available on trumpet, Jazz improvisation and composition/arranging. 
Many of my concepts in teaching Jazz Improvisation were passed to me through my studies with Joe Solomon who studied this material as a student himself with Lennie Tristano and Sal Mosca. Please find below the teaching concepts of Lennie Tristano and Sal Mosca as taught to me by Joe Solomon.
Tristano Improvisation Concepts
When I needed help in re-building my embouchure after an unexplained medical condition struck me in 2005, I reach out to Laurie Frink who over the ensuing years assigned me a "prescription" of exercises that assisted me in regaining some strength and the ability, although diminished, to play again. The following are the series of lessons she assigned me. I am forever thankful to Laurie for her assistance. You are missed!
CLINICS

Bill Stevens is also available for clinics on the following:
* Ensemble Rehearsal Techniques
* Brass, Woodwinds, Keyboards, Bass and Drums
* The Rhythm Section
* Jazz Improvisation - Click here to see my Jazz Improvisation Method Book
For the college level student majoring in Jazz Studies, view a draft of my Jazz Pedagogy Curriculum
As a 25 year teacher and administrator with the New York City
Department of Education, I have recently assembled
a guide book for Assistant Principal's Administration/Organization
to assist in the day-to-day operations of a
public or private high school. Administrative Guidebook
For further information on lessons, clinics, as well as a conference speaker/performer including rates, use the Contact tab in the Navigation Bar to email me directly. I look forward to hearing from you.
Save
Save
Save
Save
Save
Save
Save
Save
Save
Save
Save
Save